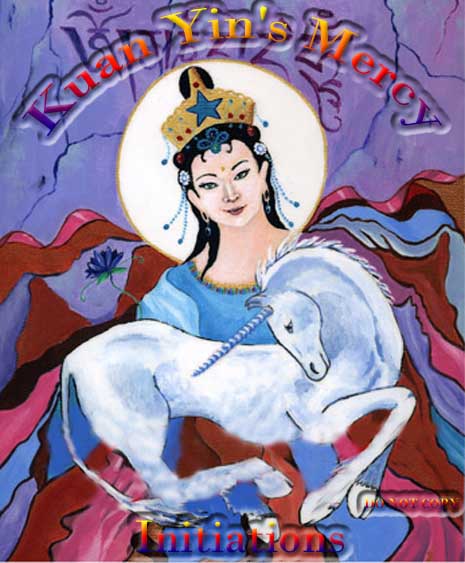 ©

I Cradle You In Safety At The Core of My Being!
Founded by: Victor Glanckopf


You will receive 7 Kuan Yin's Attunements including Her, Visualization & Attunement for Nirvana & Kuan Yin's Violet Flame Initiation!


Kuan Yin's Mercy Workshop will help you to embrace your inner Loving Light.


Kuan Yin has said: "The time has come for humanity to embrace and accept others with compassion and mercy."




Kuan Yin is a Boddhisattva, a person who has earned the right to leave this world of suffering and enter nirvana, but has chosen instead to stay on this earth to help others reach enlightenment.


Kuan Yin through her infinite love and sacrifice received Nirvana after her death.


Kuan Yin will respond to any cries of sorrow heard on earth.


Kuan Yin or Quan Yin is the embodiment of mercy and compassion.


Kuan Yin is the guardian of this present world.


Kuan Yin will guide and support you in all the areas of your life.


Kuan Yin will transform every level of your being: physical, emotional, mental, and spiritual.


You will feel her calm loving presence!.


Kuan Yin will bring comfort and inner peace to you, no matter what the outer circumstances.


Kuan Yin is very near to you and is thus able to react directly to your suffering.
Kuan Yin's Mercy Workshop's Attunements, Mantras, Visualization and Initiations will Revitalize your life.

Kuan Yin's Mercy Workshop's Violet Flame Initiation will Transmute all negative feelings and emotions to neutral or positive ones.
Kuan Yin's Mercy-$95.00


Hi Victor, Thank you so much for offering this beautiful empowerment. I really look forward to continue to do more of your other Attunements. I feel a strong connection with Kuan Yin and White Tara - it seems to be getting stronger and stronger - it pretty much fits in with the work I do. So again, thank you. Marie

You will receive Kuan Yin's Mercy Manual via Email, All Empowerments, Printed certificate, Protection Talisman. Plus full email support is given before, during and after all my Workshops.

Copyright © 2002
Spiritual Awakening Network is a registered trademark
Spiritual Awakening Network/All rights reserved